This post was originally published a few months ago on another blog. I added it to the archives here a few weeks later, but it never made the front page, until now… (Mom, you might want to skip this one)
As a child I was a natural skeptic. I can recall being in Sunday School at the church my mother attended, not more than five or six years old at best, and thinking how absolutely absurd some of the things I was hearing seemed to be. God lives in the sky. We are all his children, but Jesus was his only son. God loves us all, but he made Jesus die a bloody awful death because we are all dirty, rotten pieces of filth. If we don't accept and thank Jesus for what he did for us, God, who loves us all because we are his children, will kill us and throw us in what amounts to a giant oven where we will burn and scream and be in pain forever, after we're dead of course. (How's that for a run-on sentence?)
Anyway, as I said, even as a small child something about the story never seemed to add up properly. Mom eventually had a falling out with the people at church over some sort of hypocrisy they were committing and we stopped going (Yahooooo, celebrate!) But that didn't stop the kids at school from constantly asking, "Are you saved?"
The first time I got that interrogation my response was, naturally, "From what?" Remember, I grew up in the Bible-belt of the American south, among people who often thought there was something wrong with people who didn't marry their sisters and play with snakes on Sunday morning. I learned soon enough to answer yes to the salvation question, and hope the inquisitor moved on in search of souls to save elsewhere.
This went on for years, and eventually I got sucked into the machine and began attending a small, conservative Southern Baptist church (not to be confused with their nearly sane relations, the regular Baptists). I guess by then I was about twelve or thirteen, just entering what is now called middle school. In those days, the late 1970′s, marijuana use was epidemic among American schools and mine was no exception, so it wasn't long before my friends and I began messing around with reefer to stave off boredom, the urge to venture outside and be physically active, or much of anything else beyond listening to records and eating corn chips.
I was an avid Bible reader by then, and though there was no reference I could find anywhere in the book about the evils of smoking a plant God had made, somebody convinced me I would go to Hell for it, even though I had already said the magic words that were supposed to protect me from such a horrid fate. It was recommended that in order to overcome my attraction to pot, rock music, and possibly even girls, I should read the Book of Revelation – the scariest, most nonsensical load of shit in the whole fetid thing.
So I did, and it scared the ever-loving shit out of me; so I read it again, and got scared some more. By now, having smoked enough reefers to establish a habit and effectively turn off all but the most rudimentary of my mental faculties, I had stopped questioning the irrationalities and contradictions in the Book, so my earlier doubts were of no help at all.
Then the Baptists did the one thing I had been raised to never tolerate – hypocrisy. Without going into too many details, a good and decent 'man of God' was run out of the church because a minority of the membership didn't like the length of his wife's skirt and the openness of her mouth. Thou shalt not suffer a wife to speak her mind, especially when that mind says things that threaten your position of power in the church.
Voting was held, "members" I had never seen showed up, and a travesty against justice and democracy played out before my eyes. Despite my tendency toward slothfulness and reefer, I had, over the years, developed a pretty strong sense of right and wrong that had nothing to do with tradition. I was justly outraged and from that day never darkened the doors of another church for anything but weddings or funerals (and only then under duress) for nearly fifteen years. I eventually took another stab at organized religion after my first child was born, but that's a story for another time.
Over the next few years, as I finished my high school education, I fell deeper and deeper into the culture best described as sex, drugs, and rock-n-roll, though I never dabbled too far into the really bad stuff. To this day I've never taken more than a small handful of pills in my entire life combined, never snorted more than a few random lines of cocaine, and never stuck a needle of anything in my arm, but boy did I ever love smoking pot. In the morning, in the evening, or late into the night, to celebrate, to mourn, before work or before play; to me there was no such thing as the wrong time to burn a joint. (This went on for decades before I realized I was doing myself more harm than good like that, but again, another story, another time.)
During my final year in high school a friend of mine asked if I wanted to buy some acid, or LSD. I'd never done anything at all like that, but being young, dumb, and full of piss and vinegar, I said, why not? I still remember I paid ten dollars and received three of the smallest little blue pills I'd ever seen: turquoise microdot. I pocketed the drugs and spent the rest of the day trying to convince one or two of my friends to go on the adventure with me, but no one would bite, so the next morning I drove myself to school, parked my car in the usual spot, and proceeded to drop one of the little blue thingies under my tongue where it eventually dissolved.
First class of the day for me that year was art, and I had a wonderful hippie chick for a teacher. By the end of the period I think she knew what was up and she refused to let me leave the room (or maybe I refused to leave and she didn't push the issue, I'm not sure anymore). I drew some very strange pictures that morning, and probably raved like a lunatic the whole while. LSD is a talking drug, among other things, and if you're in a good mood going in, odds are you'll have a good experience, which I did.
Driving home from school that afternoon, I felt I was riding some sort of magical conveyance high above the road; a very odd sensation I have never since been able to replicate or adequately describe. This was the beginning of my fascination with psychedelic drugs, a fascination which I actively pursued whenever possible for about five years, though the experience has left an indelible mark, for the better, upon my soul to this day.
All of this – these memories and reflections – was rekindled the other day when my wife (who has never had the desire to experience any of this) forwarded me an article she found concerning a recent study published, of all places, at the website of the US Department of Health and Human Services: 'Magic Mushroom' Compound Triggered Positive Personality Change in Study
My first experience with psilocybin or magic mushrooms happened during my first year in college. By then I'd taken LSD several times, without negative effect, and considered myself an experienced traveler along the roadways of the inner mind. I had fallen completely away from anything remotely resembling religious life, hadn't cracked a Bible in years, but had developed an interest in shamanic rituals and the practices of indigenous people around the world.
Mushrooms were a totally different 'trip' from LSD, being shorter in duration but much more intense and, for lack of a more adequate term, much more organic feeling. That first experience with a powerful, natural entheogenic substance did change me, in ways that still reverberate to this day some twenty-five years later. I walked a thin and dangerous line back then, and before I finally left psychedelics behind a few years later I did have a few bad trips.
Waking up face down on the floor in a seventh floor dormitory room with a sore spot on one's head and finding the screen removed from an open window is a warning not to be ignored. That's how my last experience with LSD ended. It was also when I decided that synthesized drugs were too dangerous to play with anymore. What comes from the ground is good, I decided, but if it's been altered by the hand of man it isn't meant for us to take. I haven't taken manufactured drugs since, unless a doctor prescribes them for a serious medical condition. Though plant based medications can be every bit as dangerous as man-made pharmaceuticals, the odds of becoming addicted or experiencing an overdose are significantly reduced.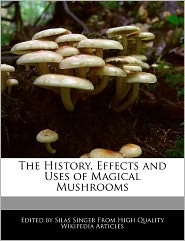 I had bad experiences with mushrooms once or twice. I once purchased a small quantity of 'shrooms' with the intention of sharing them with friends over a long holiday weekend. Unfortunately, my friends all decided to leave town for a few days and I wound up alone and depressed in my dormitory room. I ate a few bits of the fungus and immediately knew I'd regret it.
The first rule of thumb when using psychedelic drugs is to only take them if you are in a good frame of mind and a safe place, preferably with at least one person who will remain sober, just in case things get out of hand. I spent the next several hours isolated and miserable as I waited for the effects to wear off enough for me to sleep. A less experienced traveler might not have been able to cope with an experience like that, but somehow I managed to get through that and a few other foolish experiences with my sanity intact.
I spent much of the last two days reading about various entheogenic substances, their uses among spiritual seekers ancient and modern, and 'trip reports' from fellow travelers of that road less traveled across inner space. Through these experiences and many others I eventually came to realize that I do not and probably never have really believed in the god described by most so-called holy books.
I have experienced that indescribable 'something' that is the end of the individual, the oneness of being an integral tiny part of the natural universe, inseparable from all that exists. Sometimes I wish I could go back and relive a few of those moments, and given half a chance and the right setting, I probably would. It's been nearly thirty years since I first "touched the face of God" and though it's never left me, I yearn sometimes for a renewal of my membership card in that very exclusive club.
Perhaps a quote found on a professional mycologist's website yesterday and attributed to an 'unnamed colleague' of the author sums up my feelings best.
"For me, all logic and scientific reason contradicted the very notion that there is a 'God'… but one big psilocybin mushroom trip was enough to make me suppose that there just might be one, regardless of the lack of scientific evidence, and that supposition did not terminate at the end of the trip… for me, it was a return to faith in something other than scientifically provable fact."
Humans understand so little about the reality in which we exist, and are so infantile and brutish in relation to the rest of the ancient cosmos. Who am I, and who are you, to say without a doubt that there isn't something more to life, the universe, and everything, than meets our very limited eyes.