When I was growing up, in the late seventies, underground houses were a new idea being tried by a few ecologically conscious people all over the United States. Sometimes these experiments were quite successful, while others were prone to moisture problems and other design flaws. My sixth grade school teacher built one, minus the earth covered roof, and it is still occupied to this day. (I even had the privilege of  seeing it up close a few years ago. I was fascinated by the concept when I was a kid and even did a class project on the subject. I've wanted to live in one ever since.
Unfortunately, conventional ideas, no matter how wasteful and damaging they may be to our world, are hard to overturn. Nowhere is this more true than in the American residential construction industry. We build the biggest, ugliest, most inefficient houses the world has ever seen, and allow them to be oriented in the worst possible ways for utilizing principles like solar gain or wind breaks to lessen the cost of comfort. Without the massive amount of electricity and natural gas used to heat, cool, and power our homes, we'd all be as miserable as cats in a bathtub most of the time. The fuel required to generate all that power isn't going to last forever.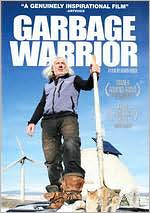 Michael Reynolds, a.k.a. the garbage warrior, is the inventor of a building concept he calls earthships. Earthships use discarded materials – mostly tires, bottles, and cans – and put them to use as structural building materials that are beautiful, sturdy, and efficient. For many years he has fought an uphill battle with government entities, usually acting at the behest of utility companies and business interests his techniques deprive of the lucrative profits they believe feel entitled to receive.
The short video below offers a basic overview of the design principles behind earthships, demonstrating how the construction of a small survival shelter would be accomplished. Those who wish too know more should seek out a copy of the feature length film, Garbage Warrior or visit the website, earthships.com.
We need more forward thinking innovators willing to fight for what's right despite seemingly impossible odds. Michael Reynolds is one such man and he deserves our appreciation and support.